12.09.2021
Works for sale at Tegnerforbundet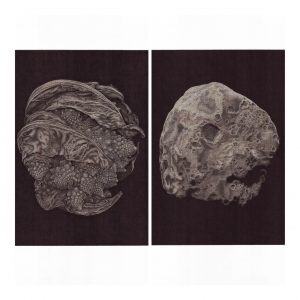 Happy to announce that my lastest drawings, Black broccoli and Epimetheus are now exclusively for sale at Tegnerforbundet (the Norwegian drawing association). Both drawings are 42×59,4 cm in format and part of an ongoing series of monochromistic objects from within and beyond our world. You can see the original drawings at Tegnerforbundet`s sales department (Rådhusgata 17, 0158 Oslo), or shop them on the internetto: https://shop.tegnerforbundet.no/categories/salgsavdeling 
12.05.2021
Opening, finally!
Welcome to the long-anticipated group show at Galleri Vanntårnet, showing works of members of Nesodden art association, whom I am one of. The coolest thing, right after the fact that there will be an actual opening with real people in real life, is that the venue is in fact a water tower. I am contributing with three drawings, and also be there myself at the vernissage, which is May 13th, 12pm – 4pm (you may bring cake). For more information, have a look here.
16.04.2021
Visit me on atelier.as
Good news to my Norwegian fans! A selection of my work is now also available on atelier.as. These guys do a great job in bringing art to the people. Online presentation, studio visits, sales, nice and smooth.. this is what the art gallery of the future will look like.
And one more thing before you rush to check out the link: for the first time, one of my rare large-format drawings, "Science" (2017), is for sale there.
20.03.2021
Under pressure

Well, I fulfilled a childhood dream: my first own graphic press. I've been sneaking around these things since student days, in awe, knowing full well that they are worth a fortune. I was lucky and found one without selling my soul. So as soon as I am done practicing I'm going into series production!
20.02.2021
New kid in town!
Just finished my drawing "Romanesco". I`ve been working on it since October last year (as you can see if you just scroll down a little longer). What took me so long? Well, one reason is I have a job. But I also like it when it gets a little complicated, hence the motive. Besides, the complete upper layer of this drawing consists of 0.05 cm thin ink lines, which I applied in so-called cross-hatching style. So you really should have a closer look!
A drawing is always a time capsule. It`s the amount of time that makes it valuable to me. And then of course there`s the conceptual part. As for this drawing, I focused on the interplay between light and shadow, positive and negative space. I will definetely explore this aspect more in the future!
01.12.2020
Christmas discount!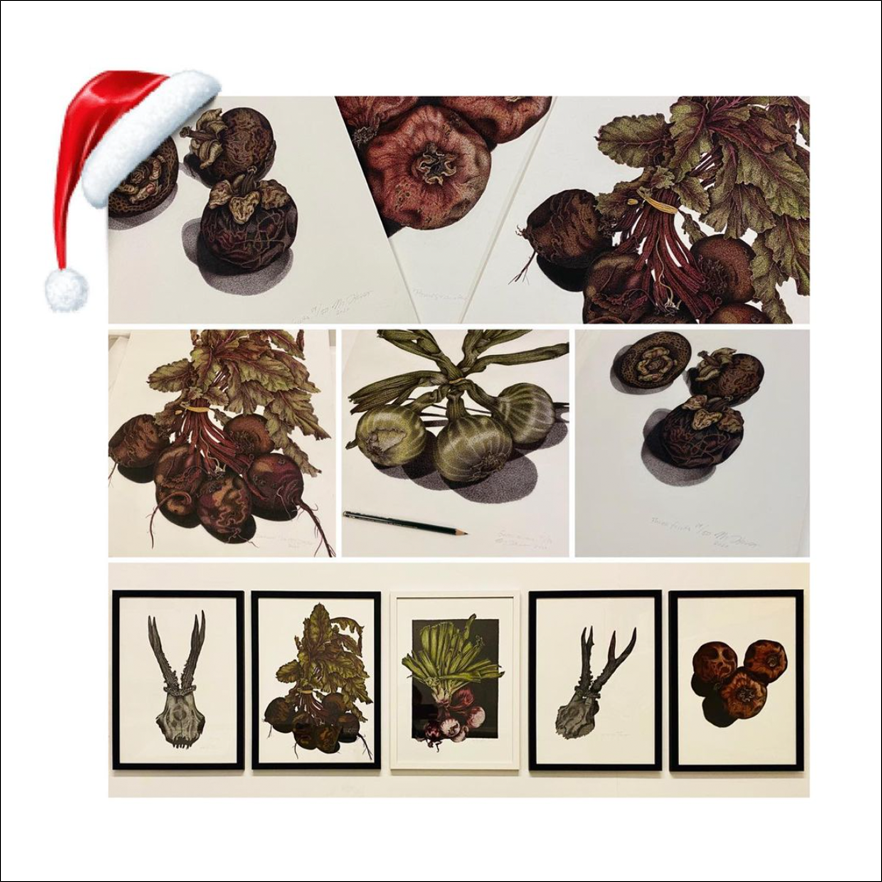 Don't forget to buy art for Christmas! It will make you very happy. Selected fine art prints made in Oslo. High quality replica of drawings of mine, two different sizes (A3 and A2).
FREE SHIPPING in December! Use discount code SANTAHEINZ at check-out.
Oslo people: Drop me a line! I'll deliver your order straight to your door without any further costs!
17.10.2020
A drawing is born
In the beginning, there was chaos. I usually start with sketching. First, I draw the outlines of an object with a pencil, then repeat them with fine liner. This keeps me from getting confused by the sheer number of details. Next step is then colouration, which will keep me busy for a while.
A real problem is decomposing – I basically need to replace my models occasionally. A bit like in the making of the TV series Rex, whose main character, a German shepherd police officer, was played by altogether six different good boys. A sobering truth.
Curious about the drawing process? Follow me on Instagram and see the latest updates!
15.10.2020
Skål, Tegnerforbundet!

Proud to announce I have been accepted as member of the Norwegian Drawing Association, Tegnerforbundet. Thank you so much!